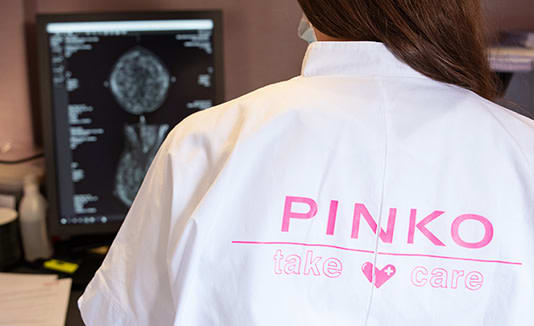 #PINKOtakecare Chronicles: 6 PINKOCTOBER
2022
October is Breast Cancer Awareness Month, and #PINKOtakecare is in the front line!
Every year, in October, #PINKO provides all employees with a free medical screening session which includes breast ultrasound scans and, for women aged 40 and over, mammography as well.
The initiative was carried out in collaboration with Medicalbox (web platform for booking diagnostic tests and specialist visits).
The choice of October as the "pink month" is not accidental. Indeed, October is the month dedicated to breast cancer prevention.
The breast examination session is aimed at making all women aware of the tools that are made available to monitor the health situation and, possibly, to identify a problem early and find a solution quickly. The activity is part of the larger #PINKOtakecare project that focuses on the importance of prevention as the best cure and remedy.