Light, colour and speed. The never-ending juxtaposition of visual stimuli and movement, illuminating everyday life in the metropolis, grabbing your attention in minuscule fractions of a second.
The Advertising Campaign for A/W 2017-18 was designed by Spanish photographer Xavi Gordo and features Portuguese model Sara Sampaio, grabbing your attention like a light box of pop colours, mixing the brand's sophisticated and feminine DNA with the dazzling rhythm of the city.

The Collection feeds on the most underground trends, subcultures and music: its inspiration is techno and pop, but couture and rock too.
Its silhouettes are oversized and unstructured, its style is defined through a carefully-balanced play of contrasts.
Daywear and its details get the rough and nonchalant appeal of the metropolis, as well as the delicate touch of a couture undertone.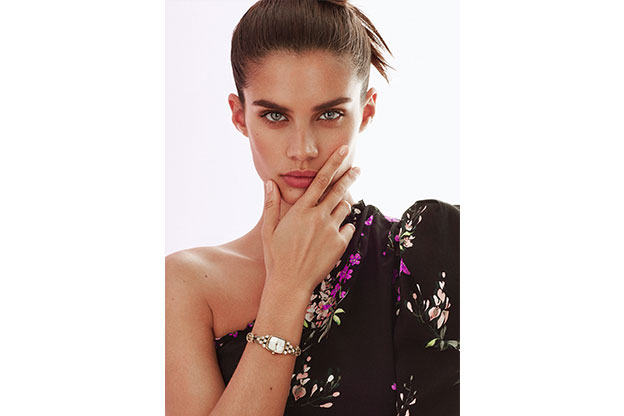 The Sport trend is relaxed and hi-tech. Details are stolen from active wear, with technical fabrics and slim silhouettes, overlapping with the generous and soft volumes of leisurewear and its '90s-style sweatshirts and trousers. Or they are interpreted with bold and startling combinations of items in colourful sequins and jackets with the look of Menswear.

The Simple Black trend focuses on two colours: silver and black, and enriches them with details that create a flash of light. Feathers, crystals and lace are used to decorate dresses, tops and trousers. The folds of the fabric emphasise a feminine mood that is both retro and contemporary at the same time.

Florals add a special touch that is romantic and feminine: the floral prints burst into bloom on dresses with a couture feeling.

Tricot is a must. It clings to the body with the mid-calf length skirts in wool and the extra-long pullovers with the oversized or soft puffed shoulders. The wool is combined with technical metal coatings, or laces and tulle.

The Puff jackets have a hint of the '80s: short and hyper-roomy, enveloping and sculptural.
There are some new additions in the Love bag family.
The It-bag by Pinko is enriched with romantic details: floral prints, stars and pearls, and rock: laces and studs. And it toys with a mix of materials: denim, calfskin and jacquards.

The street style attitude marries couture resulting in a neo-romantic-rock style. The rule is that there are no rules, exalting contrasts with irony and sensuality.
pinko store
Find the store closest to you.